For a number of years, Johan Flyckt has been using people's stories to impact on the way in which social housing services are provided in Sweden. Johan is a certified Community Reporter and trainer and has been working with people and groups in the suburbs around Stockholm since many years. During more than ten years he ran the first digital news site in one of the municipalities neighboring the city. Using Community Reporting methodologies, Johan has been using the lived experiences of people to impact on decision makers around important issues. And it is this impact that the Our Voices project seeks to build on.
Opening the fourth transnational partnership meeting for the Our Voices project, Johan reflected on the barriers he had encountered in getting people's voices to be heard – an issue that is pertinent to this project. He discussed how he had used real voices and stories in reports and films to help influence the way that things are done in his work place. This gave the Our Voices partnership much food for thought and discussion… setting the collaborative learning tone of the meeting.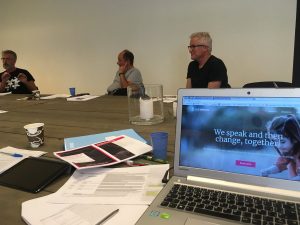 Over the last six months, the Our Voices team, led by People Voice Media (UK), has designed a 5-day training-the-trainer course on story curation. The aim is to support participants to develop knowledge and techniques on digital story curation and explore how these skills, expertise and understandings can be used in communities to support people to have their voices heard by decision makers. This meeting provided partners with a good opportunity to discuss the first draft of this curriculum and offer feedback, suggestions and adaptations based on their expertise and cultural understandings.
Based on this feedback, the training programme is currently being finalized ready for its launch in September, where in the hosting city of Berlin it will be piloted with a pan-European group of trainers. Following the training, these trainers turned curators will have the chance to plan how they can utilize the skills developed and knowledge acquired during the training in the communities in which they work. Mentoring and support will be provided by the Our Voices team as they bring story curation and mobilization processes to local, grassroots levels.
At the meeting, partners also kept an eye on sustainability and the quality of project results. Both topics were also addressed during the meeting in Stockholm, where a sustainability plan was approved and all the potential project's risks were analyzed and individuals in the partnership recorded reflective accounts of their experiences of the project and their learning so far. More news about the training course and the project are coming soon!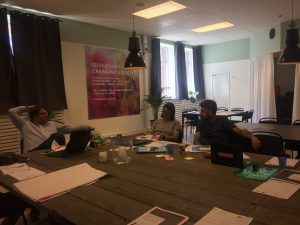 Follow our progress on #ourvoicesdm and watch out for the video stories being posted at www.our-voices.eu soon!